Atelier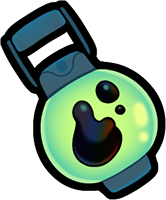 Aboard The Curator's Ship, atelier...
The Curator leads you to a large, round machine in the back of their lab, large enough for you to fit in, and you imagine that is the point. "This is the Glitch device," they explain. "It is a gene drive that is capable of live, non-destructive genetic editing of an organism. I've used it somewhat successfully with the tissues I use for my organic body, but I've had to use a lot of inorganic material to compensate for some gaps in my process. However… Your XNA presents an interesting opportunity. By leveraging your natural transgenic properties with this machine, we can hopefully give you access to adaptations not normally present in your genome." They run one of their hands across the exterior of the machine. "I must warn you, while I'm confident in my compatibility assessment, this is still an experimental process. I can guarantee you will not be harmed, but I cannot predict the exact outcome of your new mutations."
"Oh, and before you ask, no, there is no cost. I have no need for ducats really, but I do request you provide a material vital for the process; the element Astatine." They hold up a translucent container, and within you can see a sloshing, iridescent black goop. "This is refined Astatine, it's a rare element present in the crust of rocky planets, and requires specialized containment devices to keep it from undergoing decay. I require it for use in the Glitch machine to control the mutation rate and avoid disseminated tumor cells from occurring, basically to keep it safe for you. Bring me this and you can use the device… with my help of course. What would you like to do?"
How This Works
By using The Curator's equipment, you can add unusual traits to your Xero, including traits a Xero wouldn't normally be able to have, like adding Tundra Fur to a Desert Xero.
There are two parts to using the equipment. To run the machine, you will need the Glitch Card and a vial of your choice. The Glitch Card gives your Xero the "Glitched" status, which then allows you to attach any traits to it, regardless of subspecies. This is the only way to get subspecies-exclusive traits on a different subspecies of Xero, and the only way to get "Glitched" traits, such as Extra Limbs.
Once you purchase the Glitch Card, you can then add on as many vials as you want. You can use one trait per vial. So, you can use the Glitch Card + Desert Vial to add Desert Ears to your Standard Xero, or you could use the Glitch Card + Tundra Vial + Marine Vial + Glitch Vial to add Tundra Fur, Marine Fins, and Extra Limbs to your Desert Xero, etc.
You can also use the Glitch Card by itself to add the "Glitched" status, without currently adding any traits. This would allow you to add on the vial any time in the future. Once you obtain the Glitched status, it does not reset.
At this time, the Glitched status and special traits obtained through the Glitch device cannot be removed after being added. You also cannot "stack" traits such as combining Desert Ears and Marine Ears.

Once you have purchased your desired traits, adding them to your Xero is the same process as any other redesign - see our Redesign Guide for more information!
Items